Electric Start Kit for Norton Commando 69-74
Norton eKit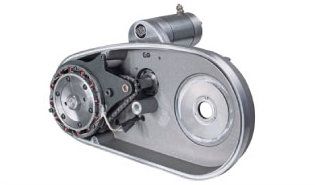 E-Starter conversion kit for Norton Commando 1969-1974
With each kit there is a starter motor, drive chain, sprag clutch, shock absorber, AC generator and a specially constructed inner primary chain case plus all the necessary cables and fittings plus detailed instructions with color illustrations to make fitting the kit as easy as possible.
In around two hours you can say goodbye to kick-starting your Commando. The Alton eKit fits directly onto the engine via a specially designed inner chain case supplied with starter motor already mounted. Once fitted, replace your existing outer chain case and away to go.

Alton designed the eKit to be as discrete as possible – they have tried to match the form without sacrificing the function. Because the original outer casing is retained, your bike stays visually authentic. But authenticity doesn't mean inefficient. By incorporating technology that didn't even exist when the Commando was conceived, Alton has built an eKit which offers 150 watts output with an average of 90 to 95 watts at normal cruising speed. The kit is designed for positive earth systems and is delivered with everything needed to effect the conversion. Just add a high output battery, a Commando engine sprocket puller and and a clutch spring compressor. Technical advice is available through CBE and we are available by telephone and email to answer any technical questions. With a two-year guarantee, what are you waiting for…
Just hit the button and away you go!
More information, including an online installation video and downloadable installation manual at the link below:
https://www.alton-france.com/downloads/

PLEASE NOTE: This unit will not fit on early Commados with the tach drive in the side cover and points behind the cylinder (which takes up the space claim for the starter). It is not a retrofit for a MKIII (1975/6) electric start machine either.