$2,495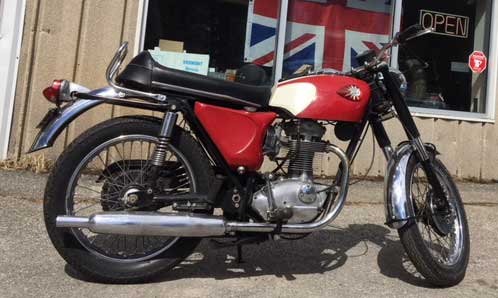 CBE Assessment: Consignment bikes at CBE go through our 50+ point "delivery checklist" as an independent assessment process. This checklist and companion notes are available upon request for qualified potential buyers.
Mechanical: This machine comes from a very good – and knowledgeable – home (please see owner's statement below). In a word, it is well sorted and ready to ride for the 2018 season. Relatively low mileage and seems correct based upon the condition of the bike overall. Everything works as it should and there is nothing more fun than bombing around on a big single.
Sensible upgrades add to ease of use and maintenance including electronic ignition and a spin on oil filter. Tires and other rubber bits are in good shape.
Please note that these models have fiberglass tanks that will not hold up with ethanol fuels. Liners will work for a while, but the best solution is to use non-ethanol or fit an aftermarket steel tank, which are available out of India from Enfield County listings on eBay. They are pre-painted with "free" shipping for reasonable $$$.
Based upon the above we have rated this bike VERY GOOD mechanically.
Cosmetic: Overall, this is a great looking bike with a patina finish. It is a rider, not a hider, so some time with polish, etc. will bring up the luster quite a bit. Chrome overall is in very good shape with just some minor pitting here and there. Aluminum parts are the typical dullish patina, but no excessive oxidation.
Based upon the above we have rated this bike GOOD cosmetically
Pricing and Paperwork: B44's have held their value over time and are one of the more affordable classics to enjoy. Victors command higher prices, but the Shooting Stars are just as fun.
A Vermont registration and bill of sale are available, but no title as they are not required in Vermont for bikes over 15 years old. A Vermont title can be secured by the owner from the state if desired but would be negotiated separately.
Owner's Statement: I bought this bike in Ontario in 2006 from a Brit bike enthusiast who had bought from original owner in 2005 in Maryland. The major modifications include a Pazon electronic ignition, a spin on oil filter, and a rebuild of the Amal carb by Waldridge Motors. The bike has been lightly ridden as I acquired a T140 Triumph which became my major rider and in later years, has not been ridden at all because of health problems. It has been stored indoors and treated as the nostalgia piece it is (nearly identical to a B-44 I had ridden daily in the late 60's). If the asking price is met, I will include a B25 gas tank, interchangeable with this model and an original owner's manual and B44 parts list.