It all began with a rag tag group called The Classic Bike Cooperative.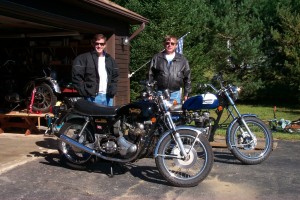 Jack Manning and the late Nick Woodbury started a loosely formed club in Jack's garage after Jack was widowed in 2005. Nothing filled the empty time and space better than a winterized garage with lots of motorcycles (mostly British), good tunes and good friends.
Fast forward to 2008…
Jack's future fiancée, Subha, having dinner with not one, but two Norton Commandos in the dining room says, "I see you like motorcycles."
Little did she know how much. After being married that May, Jack's mom passed and left all of her kids a modest inheritance. One bought a car, another bought neon equipment, another farm equipment. CBC found itself seed-funded for a buy-out of Franks' Brit Bike Barn in NH and some working capital. So, in November 2008, after the worst economic downturn since the Depression, and in the middle of winter in northern Vermont, The Classic Bike Experience opened for business.
For many years Classic Bike Experience serviced 125+ customers a year, including many global clients. 
Mostly repairs, restorations, parts and various custom services. Three quarters of our business consisted of vintage Norton motorcycles, but we had a steady diet of Triumphs, BSAs and anything else that looked interesting. Notably we allowed – nay, we encouraged – our customers to work with us in the shop.
In the fourth quarter 2014, we decided to get back our roots and keep things simple and formed the Classic Bike Guild. CBE today focuses on parts, services and select repairs and restorations. But the bulk of the shop is rented to the Guild members who pay dues for space to work on their motorcycles in a collaborative atmosphere .
Indeed. We hope to see you around the shop sometime soon.
Our culture is based upon Jack's late wife, Ann's, famous quote, "Surround yourself with people you enjoy being yourself with."
And, finally, all we ask of our team and our customers is to heed what Jack's mom was fond of saying, "Don't make a toil of pleasure."