History:
This bike was built as a third-generation track/café bike by the members of the CBE Guild. As a group we had started doing track days with Fishtail Riding School and wanted to build a more track-ready machine. We consulted with Kenny Cummings of NYC Norton to spec things out. His guidance – make it stop, make it turn, make it go – prioritized the build. The first three or four hundred miles were as a dedicated track bike. The chicken strips on the tires confirm the fact that we didn't exactly take it to the limit in our C class, but no one had more fun with 60 HP. From there we worked to get it street legal and fitted lighting and creature comforts like a Corbin Smuggler seat and an Alton electric starter. Ran it for a number of years as a café. The final paint scheme was conceived by Brent Budgor (The Vintage Vendor) and the whole thing becomes just a complete statement of our vision. At 1,800 miles, all the fettling has been done and this spirited machine just goes as good as it looks. The 2-1-2 Dunstall exhaust paired with the velocity stacks give it a very unique sound through the range.
VIN: 202311
Configuration and other Build Notes:
Naturally this is a total nut and bolt restoration.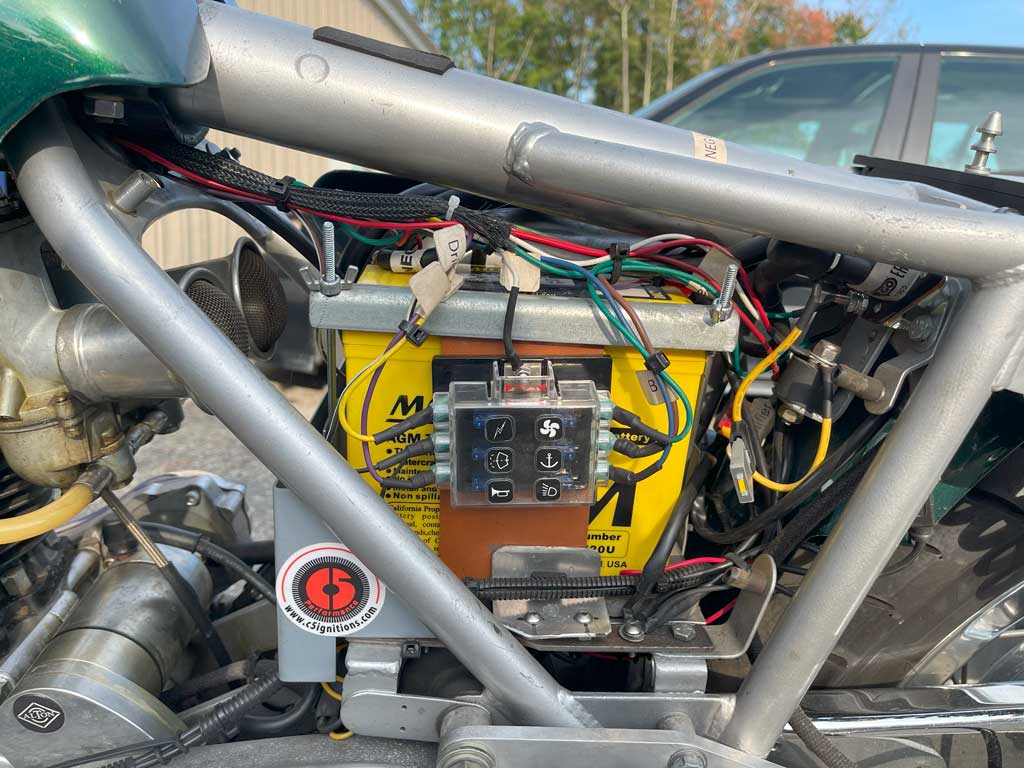 Motor
40 over built to a Stage I Combat Spec (factory) with 2S cam
Stock conrods; new shells, superblends, etc.
Breather moved to 850 location
Twin 32mm Amals built to Combat specs; chokes fitted
Mounted on splayed manifolds to allow velocity stacks.
Primary, Gearbox and final drive
Norvil belt primary
Dry clutch; new Barnett friction plates
Stock gearbox and gearing
Lip seals on gearbox shafts
Alton electric start
The gearbox is a rebuilt 850
Exhaust
Genuine Dunstall 2-1-2 Exhaust with custom hangers
Naval brass exhaust nuts
Frame & Suspension
Stiffer 74 frame
Swing arm collars installed
Stock forks, dampeners and springs; 20W
IKON rear shocks
Vernier Isolastics
Dave Taylor head steady
Steering dampener
Sidestand only; the Dunstall exhaust does not allow for a stock center stand and Dunstall center stands are not readily available.
Wheels and brakes
18" raised alloy rims; SS spokes; done by Buchannans
Avon Road Runner tires
Front brake: Norvil 14" single floating disc, AP Racing caliper with stainless steel line, 13mm Master Cylinder
Rear brake: Stock with new hub and shoes
Controls & Cockpit
Norman Hyde M bars
Matching Eurotrash clutch and brake levers and mounts
Haycon bar end mirrors
Stock "Green Ball" Norton gauges rebuilt by Nisongers
UK Dart windscreen
Oil pressure light
Kill switch/starter button on right
All in one lights/horn/directionals on left
Slipstream rearsets and sideplates
Electrical
Motobatt 20AH battery with tender leads
NEG ground system with 6 panel fuse box
Digital voltage meter
C5 Optical Ignition
Dual coil
Alton Electric Starter
Podtronics regulator/rectifier
HD Del City flasher
Halogen headlight; sealed beam
Color coded, easily traceable loom
Tank and Seat
Stock Commando Roadster tank
Corbin Gunfighter seat with storage – pretty spacious actually.
Paint and finishes
Custom "Jaguar" green with center stipe and pins by Brent Budgor, The Vintage Vendor
Production Commando logos; Atlas flags on the tank
Frame is powder coated grey.
The Riding Experience:
This is a first or second kick (actually more push button) starter.
This bike is nicely dialed in. With 1800 miles since the build it has matured into a reliable grab and go machine.
The riding position is pretty ideal. The Corbin seat, rearsets, M bars and Dart screen allow for forward, but mostly upright riding with no chest wind. The seat pushes you along allowing for a relaxed hand and arm position. The ISOs are legendary on these machines and isolate the engine vibration brilliantly.
Everyone who has ridden it says the same thing – rides and feels like a high-end track/race bike but doesn't give the back strain and fatigue of clip-ons. 3 hours in the saddle is easy.
The power and torque are Commando all the way. The top end is there, but the twisties and torque are what it is all about.
The exhaust note, like the Trident, is a bit more like a howl. Really fits the look and feel of the bike. Mr. Dunstall knew what he was doing. Ride it for a bit and you'll soon realize the inlet note from the velocity stacks adds a nice overtone.
Clutch and gearbox shift smoothly.
The big Norvil disc is all there, all the time. Rear brake is less effective than stock since the rear set foot lever arm is shorter. We welded an extension on the brake end lever which helps some.
What makes the experience so complete is having the Trident to compare it to. Whichever one I'm on at the moment is my favorite, since tomorrow I'll ride the other one!
It always draws a crowd, even people who know nothing about bikes or vintage stuff. It seems to be the color and the muscular look of the machine that is the draw.
Documentation:
The machine is currently registered and insured in Vermont. It also comes with a clear Vermont title.
A frame tag was fitted to match the motor. Yeah, I cheated a bit
I have a complete wiring diagram sketched out.
Price: $19,995