$5,800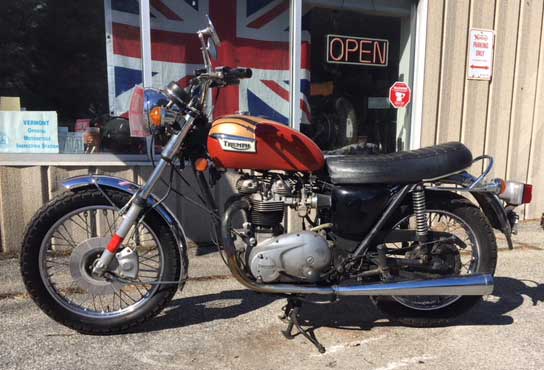 CBE Assessment: Consignment bikes at CBE go through our 50+ point "delivery checklist" as an independent assessment process. This checklist and companion notes are available upon request for qualified potential buyers.
Mechanical: At CBE, we are partial to the 73/74 750 Triumphs. They still retain the classic right-hand shift and do not have all of the clap-trap that came along in the 75 and later models. The motors have a lot of pop, a robust 5 speed gearbox and disc brake. They look and sound the part with classic Triumph lines and performance.
This machine comes from a very good – and knowledgeable – home (please see owner's statement below) and has had work done on it at our shop in the past. In a word, it is well sorted and ready to ride for the 2018 season. Relatively low mileage and seems correct based upon the condition of the bike overall. Everything works as it should and the pattern Dunstalls give it a lovely rorty note.
Sensible upgrades add to ease of use and maintenance. JRC/PWK flat slide carbs with pull chokes, coupled with a Pazon ignition, ensure reliable starts in one or two kicks. As the top end has been redone by a reputable shop in the past, there is plenty of compression, no leak-down and a pretty oil tight motor overall. For this engine, the only regular maintenance will be oil changes, valve adjustment, and draining the gas out of the carbs in the winter months. Notably, an oil filter has been added. As the Triumphs have sludge traps, this feature is only worthwhile if the engine is lowish mileage or rebuilt. Otherwise, the horse is out of the barn, so to speak as a filter won't clean a sludge trap – just keeps it from getting worse. The point being that at 11K miles, you should not have to worry about the sludge trap as the filter has been installed early enough in the bike's mechanical life.
Based upon the above we have rated this bike VERY GOOD mechanically.
Cosmetic: Overall, this is a great looking bike with a patina finish. It is a rider, not a hider, so some time with polish, etc. will bring up the luster quite a bit. Chrome overall is in very good shape with just some minor pitting here and there. Aluminum parts are the typical dullish patina, but no excessive oxidation. The tank has been repainted per the owner's statement, but there is evidence of lifting near the neck. If you can resist picking at it, it will likely be fine for quite some time.
The bike features faux T120 side covers rather than the stock air boxes. In part, this allowed room for the oil filter assembly. Stock boxes are available, and you can go to a different style oil filter system if you want a more stock look. The PWK carbs have conical air filters but will work with the stock air box too with the rubber adapters.
Based upon the above we have rated this bike GOOD cosmetically
Pricing and Paperwork: As of April 2018, 750 Triumphs are commanding better prices than they have in years. Pristine bikes sell for over $7500 and even a basket case will fetch upwards of $2000. Some of this demand is a function of the season of course. One can expect prices to tail off after Labor Day. Local/regional prices are always higher than remote, eBay sales due to the uncertainty. Since the bike is on consignment at CBE, we feel we remove a lot of that risk. However, please remember we don't have X-Ray eyes and can only report on what we see.
A Vermont registration and bill of sale are available, but no title as they are not required in Vermont for bikes over 15 years old. A Vermont title can be secured by the owner from the state if desired but would be negotiated separately.
Owner's Statement:
Among the last of the right-hand shift OIF 750's and first with a front disc brake this bike came to me as rolling restoration project in early 2008. Initial work by Frank's Brit Bike Barn in NH consisted of a new top end: 0.20 oversized pistons, rebored cylinders, bead blasting and associated guides, seals, valves; brakes with new master cylinder, calipers and new handlebars, some lighting and electrical work. The "house paint" job on the tank was removed and repainted by Brent Budgor (The Vintage Vendor). Over the next year work included: replacement of various cables, indicator lights, new correct OEM tachometer and speedo, Dunstall style mufflers, Pazon electronic ignition and a spin on oil filter. Rebuilt clutch by Classic Bike Experience in 2009. New tires front and rear. The bike has been lightly ridden in the last few years and not at all in 2016-17 as the owner has had some difficulty with carpal tunnel and torn Achilles tendon on kicking side. If the asking price is met, I will include OEM owner's manual, parts manual and 1973 workshop manual as well as a CD of most Triumph parts lists, otherwise available at additional cost.