History:
After all the Nortons we have worked on, I was keen to build a mild Trident Café and was drawn to a bike featured on the Viking Exhaust website in New Zealand. I wanted a later T150 that I could put a big disc on. Earlier bikes with drum front brakes are marginal at best and the T160s had the wrong look and too many add-ons. In 2021 I found this one in Buffalo. It also happened to include alloy rims, a feature I wanted included in this build. While I've worked on my share of triples, I don't consider myself an expert, especially with the motors. I had been advised by the triple gurus that there are essentially two types: good ones and bad ones. Since they all have oil filters, the advice was to find one well cared for with decent mileage on it, no smoking, etc. This bike has 25K and the top end had been redone by a "reputable" shop a few thousand miles back. Came with a butt ugly seat and an open 3 into 1 that made it loud and screwed up the midrange. But, otherwise a nice example to start with.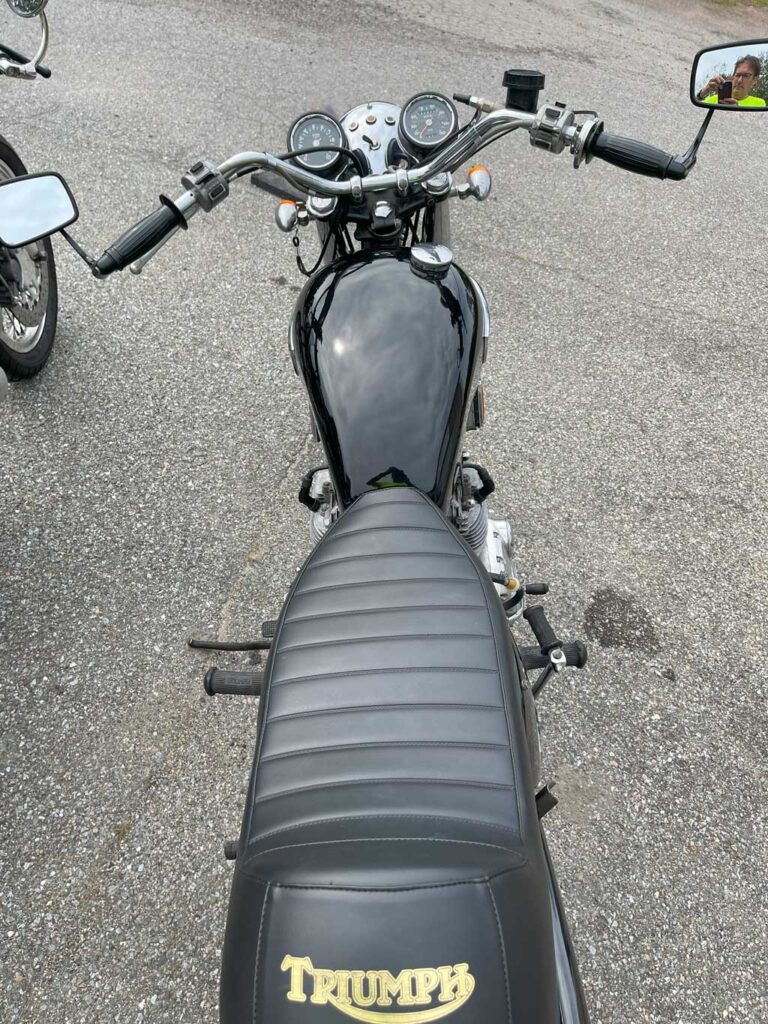 After the purchase I went through the bike as we would normally do at the shop. While not an expert, in 15+ years I have been the only guy to work on the triples that have come in. So, I know my way around them. Little details convinced me it had been well cared for and maintained. My major adds included Slippery Sam Headers in black from Viking, new black Rayguns from a source in UK as well as a new café style seat. Up front, I had a left-hand slider that allowed me to mount a pair of Girling discs and calipers.
VIN: T150V KJ40994

Configuration and other Build Notes: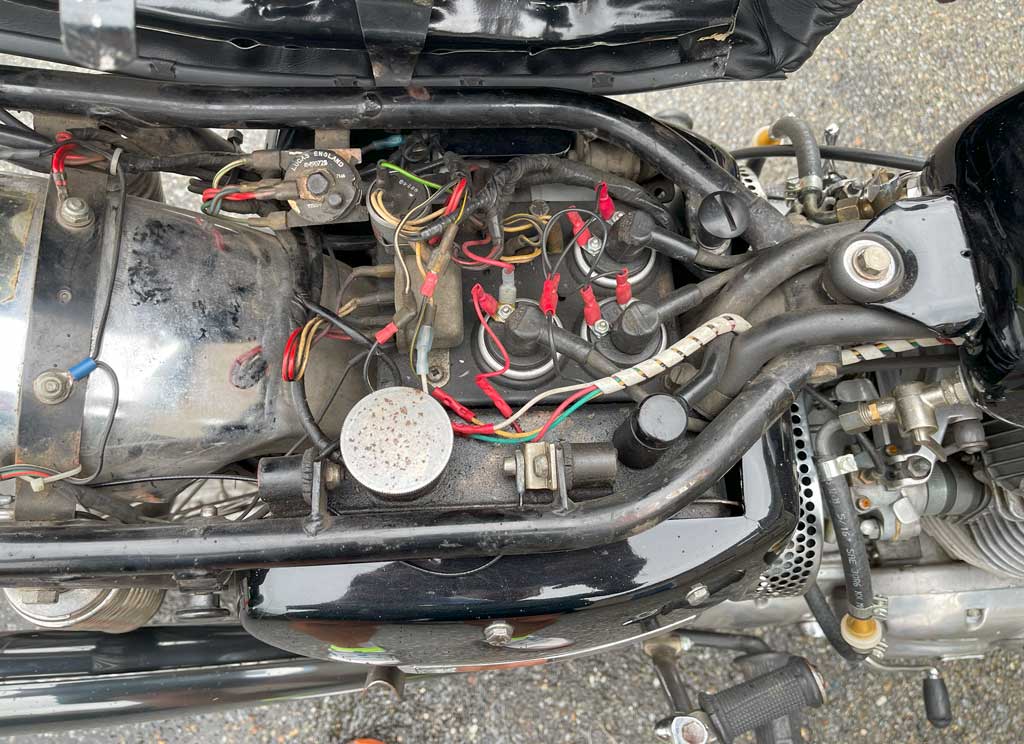 Other than general clean up, no motor work was necessary other than normal adjustments and maintenance.
The bike came with raised alloy rims and stainless spokes, which was part of my vision for a mild café build.
New Dunlop TT100s are fitted.
Stock Amal carburation and air cleaner. Chokes are fitted. Center tickler extension is a helpful touch.
Slippery Sam tuck in headers from Viking Exhaust in New Zealand are paired with new production black Rayguns from UK.
New Café seat from UK.
I installed a left-hand disc-ready slider and twin Girling discs and calipers. Spiegler "antique black" stainless steel lines are operated by a stock stainless steel master cylinder. Really stops well now.
Stock rear brake works great and can be locked up easily.
Boyer ignition; pretty much stock everything else electrical in good working order. Hydraulic front brake switch replaced the stock mechanical unit.
Paint and finish are considered very good. No chips or rust.
Napolean bar end mirrors.
The Riding Experience:
This is a first or second kick starter. No smoke or bad noises.
This bike is nicely dialed in. Rolls on like a tornado with no hesitation, skipping or popping on decel. The howl is legendary. It came to me with a 3 into 1 exhaust that was loud and made the midrange off enough to be annoying. The proper backpressure from these headers and mufflers made a huge difference in the performance and sound.
Clutch, gearbox, controls all work as they should. The 5-speed box is a plus.
This is a heavier bike than the twins, but once on song feels surprisingly nimble. The twin Girlings make all the difference in having confidence in stopping the big brute. The stock single disc that was on it was really not enough.
It is thirsty but sports a big tank to get you there. Just be mindful of your fuel level.
What makes the experience so complete is having the Norton to compare it to. Whichever one I'm on at the moment is my favorite, since tomorrow I'll ride the other one!
Tridents always draw a crowd and this one is no different.
After a 100+ mile fall foliage ride, I was pleasantly surprised to see no oil leaks.
Documentation:
The machine is currently registered and insured in Vermont. It also comes with a clear Vermont title.
An original factory manual is included.
Price: $9,995