Classic Bike Experience (CBE) will host the 5th Annual Burlington, Vermont regional celebration of the Distinguished Gentleman's Ride (DGR) on Sunday, May 22.
After donning your most dapper duds, your day will begin at the shop in Essex Junction at 10:30 am with hot-off-the-grill breakfast sandwiches, and mingling with like-minded motorheads. Then, a 25-mile group ride embarks at noon after capturing a group photo. Finally, we'll gather at Black Flannel, a local brew pub for a de facto bike show, awards, drinks, and live music.
DGR is a fun and unique fundraising event held each year in support of men's health. This will be the 10th year DGR has taken place on a global level.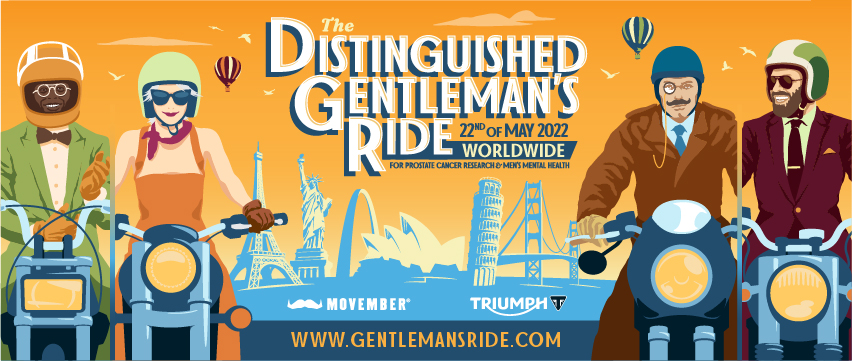 DGR requires all riders to be registered in advance. If you can't make it, you can still donate to our Burlington regional ride as well.
Click HERE to see more videos of previous DGR events around the world. Pre-Covid, the Vermont event drew over 50 riders.
We are looking forward to seeing as many of you as possible show up with a polished bike, and your fanciest duds for this event!
DGR Style Guide:
In keeping with the classic lines of vintage-inspired motorcycles, the Distinguished Gentleman's Ride is a niche, charity event that focuses on classically designed motorcycles, and dapperly decked out folks riding their bikes through the heart of their cities. These bikes strictly include Café Racers, Bobbers, Classics, Trackers, Scramblers, Old School Choppers, Modern Classics, Sidecars, Classic Scooters, and Brat-Styled motorcycles to raise awareness and funds for prostate cancer research and men's mental health programs.
About DGR
The Distinguished Gentleman's Ride unites classic and vintage style motorcycle riders all over the world to raise funds and awareness for prostate cancer research and men's mental health.
The DGR was founded in Sydney, Australia, by Mark Hawwa. It was inspired by a photo of TV show Mad Men's Don Draper astride a 1960's British Matchless and wearing his finest suit. Mark decided a themed ride would be a great way of connecting niche motorcycle enthusiasts and communities while raising funds to support men's issues.
Launched in 2012, the ride is held the same day every year. Over that period 340,000 riders from 115 countries have raised over $31M.
Help Spread the Word with These Graphics: