One of our Guild members, Kathy Daily recently alerted us with the following, "I stumbled over a YouTube series last night featuring Isle Of Mann legend Guy Martin."
She shared a link to the video below which covers his effort working with Triumph at Bonneville, to break the two-wheeled, land speed record at that time standing at 376.363 mph.
Guy Martin starred in TT3D: Closer to the Edge (click link to watch the award-winning, full-length feature film),  a 2011 documentary on the TT's legendary rivalries and the Isle of Man's unique road racing history. He started racing in 1998, and made his first appearance at the Isle of Man TT events in 2004, where he gained 15 podium finishes. He has broken his back twice in racing accidents, in the 2010 TT and the 2015 Ulster Grand Prix.
While the press has announced his retirement from motorcycle racing several times, most recently last summer in Motorcycle News on July 26, 2017, he continues to deny it: "I've not given up on racing or road racing, there's no unfinished business and I want to race classics and oddball stuff."
With a bit of research, I was able to find Channel Four Television Corporation's YouTube channel. They are are the producers of Speed with Guy Martin, located in Belfast and the Guy Martin show's YouTube playlist is  filled with more than sixty "cool episodes of him doing things rapidly," as Kathy says. "Beats shoveling snow!"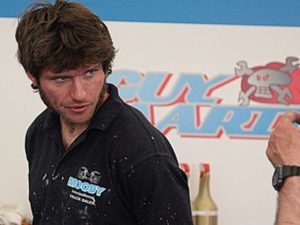 As Britain's favorite daredevil, Guy's extensive Wikipedia bio provides a special section entitled "Speeding."
By late 2011 he had accrued 21 penalty points on his standard UK driving licence, having been caught speeding several times in his Transit van. He avoided a driving ban when on 18 points, being given another three in lieu of a ban, after the judge showed leniency due to the effect it would have on his livelihood, had he lost it. After a period of "driving like a saint" he was expecting to have regained a clean record by April 2015.

Following claims made in his 7 April 2015 Sunday Times review of the Aston Martin Vanquish, in which he recounted testing the car on an early morning lap of the TT course, police opened an investigation. Driving almost the full length of the TT course (joining at Quarterbridge garage and finishing at Governor's Bridge), he said he was impressed at how fast it really was, reaching 180 mph down Sulby Straight and becoming airborne at Ballacrye corner, resulting in "something like a 22-minute lap". On 27 May police confirmed that after taking advice from the Attorney General's Chambers, they would be taking no further action, while reminding residents and visitors that, "Where there is no upper speed limit, road users must at all times be aware that there is a fine line between what is fast and what is dangerous." A few days later in a radio interview, Martin repeated the claims, and stated he had not broken the law as he had only reached high speeds on derestricted roads (i.e., those with no upper speed limit).
If you want to learn more about this Guy… he has written three books about his life, releasing his autobiography, Guy Martin: My Autobiography, in 2014. It reached No.1 in the Sunday Times bestseller list and remained there for at least six weeks, and eventually became the second best selling autobiography of 2014. This was followed by Guy Martin: When You Dead, You Dead, released in 2015, and covering the previous year in diary format, from the 24-hour Solo World Mountain Bike Championship to the Isle of Man TT. It was listed No.1 in Amazon's sales figures for celebrity autobiographies in November 2015, with his main autobiography being No.10. October 2016 saw the release of his latest book, titled Guy Martin: Worms to Catch featuring his thoughts on the past year and upcoming challenges.
Guy's Official website.