It's is the crown jewel of a classic motorcycle.
Getting a quality paint job that is true to the original paint scheme and tones at a reasonable price is part science and part art. Our goal is to give a high quality, reasonably priced, "Rider Level" finish. To that end, we use Brent Budgor, owner of the Vintage Vendor here in Vermont, as our exclusive painter at CBE.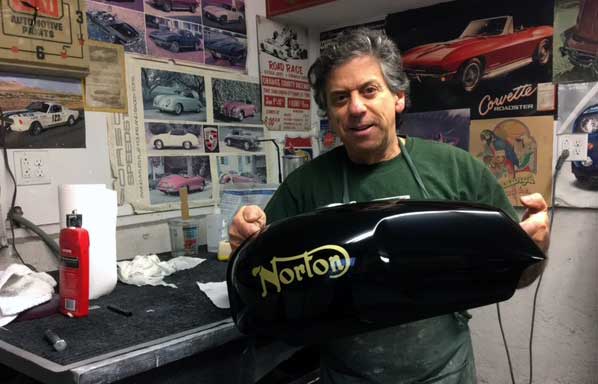 Here is how Brent describes "Rider Level"
"The final finish at 'Rider Level' is a high-quality, two-stage basecoat and clearcoat of urethane, automotive grade paint. It is wet-sanded and buffed to a high luster and has a very nice, fairly smooth reflective quality. While there might be some slight 'peel' to the finish, you can still see a clear image when you look at it. And while we don't consider it 'show quality' you could certainly go that route and possibly walk away with a trophy at a local show as a number of customers have done. However, being as paint must be applied by a person and in essence, 'created' by that person, it is not perfect. That being said, rider level is also much more affordable than a show-quality paint job. Virtually all of my customers understand this up front and are happy with the results."
Notably, Brent does not use paste-on decals or pin-striping, but rather masks layers of the appropriate paint and then clear-coats to give a smooth, luscious finish. You can find more info on his website at Vintage-Vendor.com.