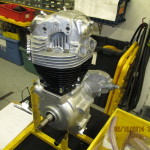 Far and away, we do more Commando motors than any other.  We build the motors more or less to original specs with "new metal" in the normal places for a rebuild.  As with all major jobs, we write a detailed spec on what exactly will be done and what upgrades are to be included.  There are quite a few differences in the model years from 69 to 75 – along with some known defects and shortcomings – that we will advise you on as part of the build.   Plan on $2500 to $4500  for a motor redo.  Finishes and blingy fasteners drive cost as well.   For those of you keen on a race motor, we collaborate with Kenny Cummings at NYC Norton.
.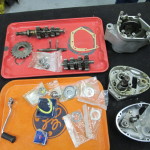 The Commando gearbox (not transmission, please….a transmission in Brit-speak is your primary) has been around a long time and transferred power on many machines.  It can be a tad humbling at times for those doing it for the first time.  Our service includes teardown, inspection, replacement of all bearings and seals, upgrades as requested and repairs as needed.  Fixed price labor is $175.  A rebuild kit with bearings, seals and bushings is $200.  Machining and lip seals for kick start and shifter is $85.  We can vapor blast and polish the cover as well if you want.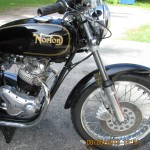 The Norton caliper is a signature element of the later Commandos.  With a few mechanical changes the brakes can go from being "wooden" and a tad homely, to effective and snappy looking.  Calipers are a pain to rebuild if you don't have the right tools and you risk damaging the unit.
The 13mm conversion is the biggest bang for the buck as it gives a much better mechanical advantage and creates a solid feel.  Stainless Steel lines are custom ordered for you based upon your bike, bars, and if you want clear or colored coverings.  Black, for example, makes the lines look a bit stock line, but improves performance by removing the "sponge" feel of rubber.  We rebuild your actual caliper, but do off the shelf exchanges for Master Cylinders and discs.
Rebuild Caliper
• New Stainless Steel pistons (we don't use plated parts)
• New SS cover
• New seals
• New bleed screw
• Polished casting
• Caliper Rebuild:  $195
• Brake pads – $35
Stainless steel brake line – approx. $85
Master Cylinder re-sleeve (13mm)
• With exchange:  $245