Classic Bike Experience (CBE) is pleased to announce our new Shop Manager, Sherb Lang.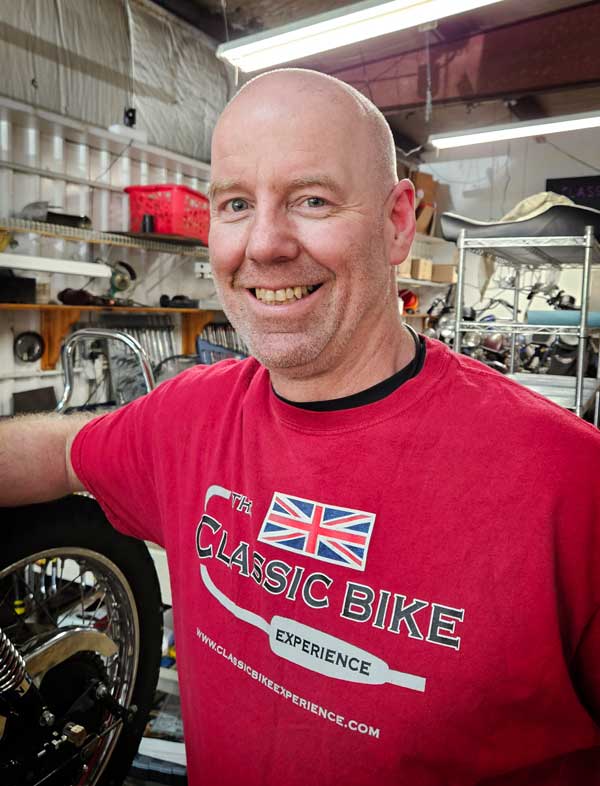 Sherb took on the role earlier this year and has made huge improvements in our documentation, upgraded our shop practices and has overhauled our processes. Customers now have real-time access to all of the elements of their projects including parts costs, labor, subcontracts, and completion metrics.
In addition to managing the workflow in the shop, Sherb is also working on various social media and promotion elements with our web and social media manager, Stephen Kastner at DesignWise Studios, to build a collection of digital shop media, photos and videos that enable you to have a closer look at what goes on in the shop. We have a lot of unique operations going on like the genuine 1959 700cc Enfield Indian Chief we just fired up.
Sherb has the bona fides on vintage British bikes. His dad, Sherb Sr., wooed his mom on a '74 MKIIA Commando in Spain back in the day. The bike sat for way too long before Sherb and his son, Connor, began its restoration several years ago as CBE Guild members. Dad is now in a memory-care facility in Rutland, but a ride around the parking lot brought it all back to him. Pretty cool. As we like to say, all part of the "Experience" here at CBE. Well done.